UPD Plastics no longer fabricates replacement broken glass with Acrylic. Please try www.oceandynamics.com
Does Your Windshield Look Like This?
If replacing a glass windshield will cost more than the current value of your boat (unless insurance is paying for the replacement), acrylic may be the wiser economic choice. In most cases, depending on the size of your shield, you can replace your broken shield with marine grade acrylic, compared to several thousands for glass.
If you would like to learn how to Template your Frame before starting please click the PDF form. Making Templates for Metal Frame Instructions
Examples of pricing based on the size of the frame:
*Small Corner Curved Metal Frame is $450.00 plus shipping. For Frames that do not exceed a Cord measurement of 37″ long and 24″ High.
*Medium Corner Curved Metal Frame is $550.00 plus shipping. For Frames that do not exceed a Cord measurement of 48″ long and 30″ High.
*Large Corner Curved Metal Frame is must be quoted from our quote form plus shipping.
*Multiple Piece Metal Framed Windshields with Doors must be quoted on our Form.
---
Getting a rough Quote by Measuring your Frame
To figure out a rough quote see the picture to the right and measure your Frame for the Cord and Height measurements and compare your size to the ones above.
If you are interested in this option, click on the link below for a quote. It is important that you upload pictures of the good and bad sides of your shield so we can give you an accurate quote.
We will need your old frame, rubber seals, corner screws and samples of the broken glass if possible to produce a quality shield for you. Please leave your frame on the boat, as we will send you a set of instructions on how to mark your frame before removing it from the boat for shipping to our location.
In general there are a few colors we can provide for Metal-Framed Acrylic Windshields in: clear, marine green, and smoked colors to match the original glass as close as possible. Colors in acrylic do not match glass exactly as these are two different materials!
***Prices listed on this page are based on a standard Frame. If the Frame has any special features that require additional labor the price will be adjusted.
Does Your Frame Look Like This? Or do you insist on having a Glass Windshield?
For this you can contact Ocean Dynamics. They have the metal fabrication facilities to fix your bent or twisted frames.
They can even make a frame for your boat if you do not have the original! Power Coating and Polishing is all done on their premises.
Contact them today! www.oceandynamics.com
Twisted Frame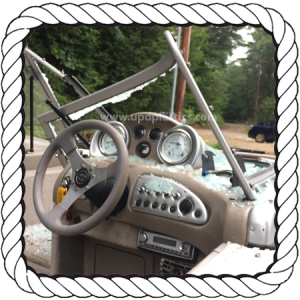 Replace Broken Glass with a 

New Acrylic Shield